So Evan, What's Been Going On?
on
March 19, 2012
at
3:52 am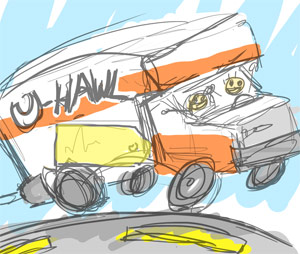 Last year, the wife and I moved back from Texas (where I lost my job) to Florida (where I got a new job). Things were pretty up in the air for a while, we were living with family for a few months while trying to sell our old house in TX, and I was commuting something like 3 hours a day to my new job across town. I was just too tired to really think about the webcomic (and candidly it was nice to not have to worry about it for a while).
A year or so later, things have settled down, I'm now able to work from home and my current job is great, so much so that I don't really have to worry about making any money with the webcomic any longer, and I can really just refocus on the things I really want to do artistically.
That said, I have a story I want to tell; however, the direction Pajama Forest has taken isn't what I ultimately want to do. I really like some of what I've been able to do but because I never really planned out any sort of story or direction or anything it became confusing and just didn't mean as much as I felt it should.
So. I've been working really hard launching a new site and direction for my new webcomic AugustLovesMay.com, which will be my new creative outlet to keep developing my writing and artistic skills from getting rusty. In the meantime, I am also working on something else very secret (a graphic novel). I won't say much more of that right now for fear of jinxing it or something :)
Best,
-Evan Diaz
PS: You can click right here to be notified when a new comic is posted, it's free and awesome. Also, I welcome your thoughts and questions on this decision.

(click here to check out the new comic »)